This is a weekly bookish meme hosted by MizB at Should Be Reading.
* BE CAREFUL NOT TO INCLUDE SPOILERS!
(Make sure that what you share doesn't give too much away! You don't want to ruin the book for others!)
* Share the title & author, too, so that other TT participants can add the book to their TBR Lists if they like your teasers!
A new romance from the New York Times bestselling author of the Spellbound Falls novels...

Jane Abbott knows that she's nobody special, so instead of looking for romance she's hunting partridge in the Maine woods when a plane crashes into a nearby pond. Diving in to save the pilot, Jane instinctively gives him air by way of a lifesaving kiss, and leads him to safety through a barrage of gunfire.

The handsome stranger returns the favor by kidnapping her.

Clearly no ordinary man, and insisting Jane's life is in danger, Mark spirits his stubborn guardian angel to an aircraft carrier in the Atlantic Ocean. Only then does she discover that the mysterious Mark is actually Prince Markov Lakeland.

Soon to be crowned king of the young country of Shelikova, can Mark persuade Jane that she has what it takes to be his queen?
Available July 5, 2016 from Jove
Teaser...
What she didn't need to know was that he intended to kiss her whether she was insolent or not--he vividly remembered the feel of her life-giving lips earlier when she'd come to him out of nowhere, literally saving him with her breath. And he wanted to kiss her for it, long and slow and passionately; to share with her his joy of just being alive, to taste and savor the bravado and strength of will she possessed. (Page 24)
I guess I just needed a change. While this book sounded interesting to me, I wasn't sure I would actually read it. BUT I'm glad I did. It may have put a dent in my reading funk. Review coming.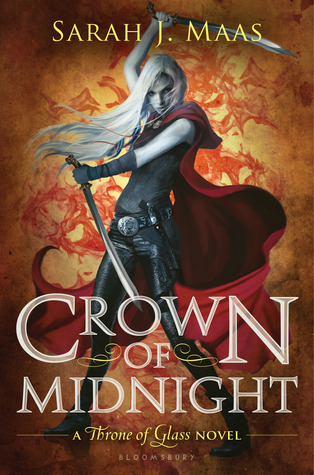 "A line that should never be crossed is about to be breached.

It puts this entire castle in jeopardy—and the life of your friend."
From the throne of glass rules a king with a fist of iron and a soul as black as pitch. Assassin Celaena Sardothien won a brutal contest to become his Champion. Yet Celaena is far from loyal to the crown. She hides her secret vigilantly; she knows that the man she serves is bent on evil.
Keeping up the deadly charade becomes increasingly difficult when Celaena realizes she is not the only one seeking justice. As she tries to untangle the mysteries buried deep within the glass castle, her closest relationships suffer. It seems no one is above questioning her allegiances—not the Crown Prince Dorian; not Chaol, the Captain of the Guard; not even her best friend, Nehemia, a foreign princess with a rebel heart.
Then one terrible night, the secrets they have all been keeping lead to an unspeakable tragedy. As Celaena's world shatters, she will be forced to give up the very thing most precious to her and decide once and for all where her true loyalties lie... and whom she is ultimately willing to fight for.
Teaser...
She grabbed Chaol's arm as they drew near the tea court. "If you walk up looking like you're going to pummel someone," she crooned, linking her elbow through his, "then he'll certainly know something is amiss. And, again, do not say anything to him. Leave the talking and the charming to me."
Chaol raised his brows. "So I'm just here for decoration?"
"Be grateful I consider you a worthy accessory."
I love these two and their banter. He's all grumpy and cute, and she's all sarcastic and confident. Ahhh LOVE.
Those are our teasers for this week! What do you think? Do you have a teaser to share? Leave us a comment and link us up!