Who doesn't LOVE a good swoon?! We love them for sure! Check out our swoon below and then add to the fun.
Post anything that made you swoon, past or present read. Include the cover, blurb and links. Please no spoilers.
Former Army Captain and venture capitalist Preston Guthrie has always had a thing for Cat Kingston, but he never felt like he could date his best friend's sister. Plus, he's a wrong-side-of-the-tracks guy and she's a white-picket-fence kind of woman. Yet when they met again just before he was deployed, sparks flew. A fire ignited. And the heat was hot. For the first time, he thought a relationship with her might be possible…until an injury in the war changed everything…
Journalist Cat Kingston had a rough couple of years, surviving a broken engagement and the loss of her job. But connecting with Preston last fall seemed right. They shared steamy Skype sessions while he was overseas—until he was wounded, and cut her off without explanation. Now he's back in town to be the Best Man for her sister's wedding…and she wants answers.
Preston's struggling with a leg wound, but the war scarred him on the inside, too. When Cat pays him a surprise visit and her brother catches them in a compromising position, Preston tells him they're dating. He's not sure how he can spend the entire wedding week fake-dating her when the chemistry between them feels anything but…
Swoon...
And then he kissed her. A spectacular, magical kiss that began featherlight and breezy and turned into something completely different. He slid his hand around the nape of her bare neck and pulled her against him, and she'd clutched at his back, feeling the taut planes of muscles, the strength, the soft, wonderful feel of his lips on hers. (Kindle location 1417)
This swoon is a memory of what happened, hence the tense. Such a sweet, yummy memory it is too!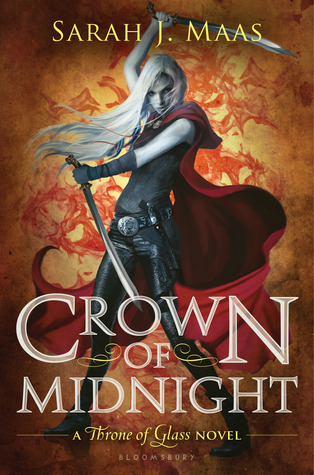 "A line that should never be crossed is about to be breached.

It puts this entire castle in jeopardy—and the life of your friend."
From the throne of glass rules a king with a fist of iron and a soul as black as pitch. Assassin Celaena Sardothien won a brutal contest to become his Champion. Yet Celaena is far from loyal to the crown. She hides her secret vigilantly; she knows that the man she serves is bent on evil.
Keeping up the deadly charade becomes increasingly difficult when Celaena realizes she is not the only one seeking justice. As she tries to untangle the mysteries buried deep within the glass castle, her closest relationships suffer. It seems no one is above questioning her allegiances—not the Crown Prince Dorian; not Chaol, the Captain of the Guard; not even her best friend, Nehemia, a foreign princess with a rebel heart.
Then one terrible night, the secrets they have all been keeping lead to an unspeakable tragedy. As Celaena's world shatters, she will be forced to give up the very thing most precious to her and decide once and for all where her true loyalties lie... and whom she is ultimately willing to fight for.
Swoon...
He took a step toward her, but she held her ground. "Believe me, Celaena," he snarled, his eyes flashing, "I know you can look after yourself. But I worry because I care. Gods help me, I know I shouldn't, but I do. So I will always tell you to be careful, because I will always care what happens."
Oh. My. Gosh. CHAOL. I love him. I love him so much.
Those are our swoons for this week! What about you? Leave us a comment & a link.