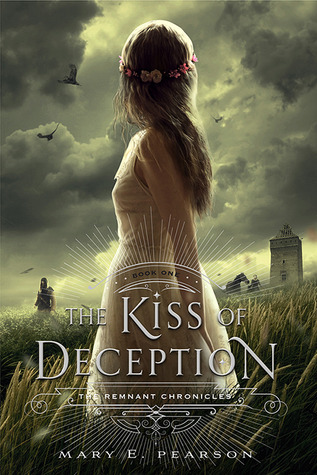 Source: E-copy provided by the publisher in exchange for a fair and honest review.
A princess must find her place in a reborn world.
She flees on her wedding day.
She steals ancient documents from the Chancellor's secret collection.
She is pursued by bounty hunters sent by her own father.
She is Princess Lia, seventeen, First Daughter of the House of Morrighan.
The Kingdom of Morrighan is steeped in tradition and the stories of a bygone world, but some traditions Lia can't abide. Like having to marry someone she's never met to secure a political alliance.
Fed up and ready for a new life, Lia flees to a distant village on the morning of her wedding. She settles in among the common folk, intrigued when two mysterious and handsome strangers arrive—and unaware that one is the jilted prince and the other an assassin sent to kill her. Deceptions swirl and Lia finds herself on the brink of unlocking perilous secrets—secrets that may unravel her world—even as she feels herself falling in love.
Review...
I've had my eye on this book for a good while now. First when it came out and I thought it looked cool. Then when the sequel came out and everyone was talking about it. And THEN when I went to a Mary E. Pearson signing and heard some friends talking about how amazing these books are. I left that signing with the first two Remnant Chronicles books, but only now (months later--this signing was in July) have I gotten around to picking this one up. Mostly because hype can be a scary thing. But as for
The Kiss of Deception
, I've come to the happy conclusion that the hype is deserved.
Fantasy can be an intimidating genre for me, because there's so much worldbuilding to understand, and starting a fantasty book/series is a commitment. You have to be willing to sit there and read it all and immerse yourself in the world for however long it takes to get pulled in. Luckily for
The Kiss of Deception
, Mary E. Pearson's writing is GORGEOUS. Reading the world descriptions and history and whatnot was not nearly as daunting as it could have been. It did take me a little ways into the book to truly get pulled in, but I was always interested in what was happening and what was to come. So during that time where I was trying to dig my heels into the story, I was invested. And then when I did reach that point where I was like HECK YEAH I AM IN, I was down for the count, head over heels for this book.
Lia is the protagonist, and I had some serious respect for her. She struck out with her best friend in order to avoid falling under the plan her father set for her--to marry a prince from a rival kingdom in order to establish peace. She refused to be a pawn and marry someone she's never met. So she ran. A very courageous thing to do. She's also pretty darn clever and strong. I'd love to have her as a friend.
Along with Lia, there are two more main characters--the prince and the assassin. One of my absolute favorite things about this book was the way Mary E. Pearson wrote these characters. I spent a majority of the novel trying to ascertain which was which. I had thought for sure I'd figured it out several times, and then when I found out who was who, I discovered I was WRONG. It was a fun addition to the reading experience, and Pearson wrote this aspect so incredibly well.
The romance was slow burn, but also so incredibly satisfying. By the end of the book, I was set on ship and I believe I am prepared to go down with it. Depending on what happens in the next couple of books, of course. Lia's interactions with the guys (one guy in particular, of course) made my heart all kinds of happy. There was definitely a good amount of swooning to be had. And I can only IMAGINE how much swooning is in store as the series continues. Goodness.
Overall,
The Kiss of Deception
is an amazingly written story full of swoons and surprises. I fell in love with these characters and their story, and I am looking forward to continuing on to the next book. Fingers crossed my ship survives!
4 stars - A

n amazingly written story full of swoons and surprises

!