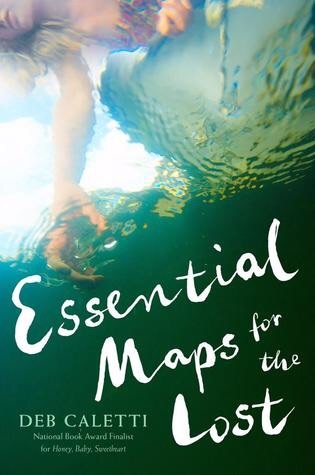 Essential Maps for the Lost by Deb Caletti
Source: ARC provided by the publisher in exchange for a fair and honest review.
When Madison makes a startling discovery, the body of a dead woman floating in the middle of a lake, the summer after her senior year becomes more complicated than she ever expected.
Madison (Mads to everyone who knows her) is staying with her aunt and uncle in Seattle after graduating from high school. Being away from her needy, unstable mother who's been pressuring her to take over the family business is such a relief. Now all Mads has to worry about is taking classes, swimming laps, and fighting off the sadness that threatens to overtake her.
That is, until the traumatic moment Mads collides with a body in the middle of the lake. After swimming the body back to shore, Mads becomes obsessed with uncovering the identity of the woman and what drove her to leap off of the Aurora Bridge. Determined to discover more, Mads parks outside the woman's home and sees the woman's son: the sweet and tormented Billy Youngwolf Floyd.
Through a series of not-so-happenstance meetings, Mads and Billy realize that desperate mothers and rescue missions are not the only thing that bonds them. Billy carries a map in his pocket; the one of the museum from The Mixed-Up Files of Mrs. Basil E. Frankweiler; and it's his dream to visit the museum one day. And though book-loving Mads is expected to return home to her already-decided future, her dream is to run away to a life of her choosing.
As the unlikely pair fall hard for each other and as the summer draws to a close, Billy and Mads must decide whose story to follow: their family's or their own.
Book Links:
Deb Caletti is one of my favorite authors. I haven't read every single one of her books (yet), but I've read a majority of them and enjoyed every one (Stay is my favorite, in case you were wondering). So I always get excited when I get a new book of hers in my hands. Essential Maps for the Lost had an interesting premise, so that doubled my excitement for this one. And lucky for me, this book was great (as I expected).

One of the things that I loved most about Essential Maps for the Lost was the characters. Mads and Billy are one of the cutest couples. They're pretty darn adorable individually, but stick them together and you have an awkward mass of nerdy sweetness. I loved learning about each of them, and then seeing them grow to adore each other. They had me smiling so many times throughout the story. While they have some ups and downs, I was rooting for them through it all.

Another high point for this book was Deb Caletti's writing. I always enjoy the way her stories are written, but this one in particular was stunning. It's in third person alternating between Mads and Billy, but there's also this overall self-aware quality to it that was both interesting and refreshing to read. The book starts out with this aspect, which pulled me in right away. Then we jump into the story of Mads and Billy and I was in for the long haul. As always with Deb Caletti's books, Essential Maps for the Lost had was enchanting to me. I was pulled into the world and the characters' lives the whole way through.

My only gripe about the story is that I wasn't fond of the secrets and misunderstandings had between Mads and Billy. I understand why Mads was hesitant to own up to the truth, and I also understand that things get mixed up and complicated sometimes, but a lot of it could have been avoided here simply by telling the truth. It all turned out fine, dandy, and beautiful in the end, so I'm not too bitter about it or anything, but as I was reading the story I got so nervous over this.

Overall, Essential Maps for the Lost is a stunning love story. Deb Caletti's writing is compelling, and the characters are magnificent. I truly enjoyed this book, and I can't wait to read whatever comes next from Deb Caletti. (Though in the meantime, I really need to make it a priority to read the three--maybe four?--books of hers I have yet to read!)
4 stars - Enchanting and beautiful, Essential Maps for the Lost is a stunning love story that I truly enjoyed!
Deb Caletti
is an award winning author and National Book Award finalist. Her many books for young adults include "The Nature of Jade," "Stay," "The Last Forever," and "Honey, Baby Sweetheart," winner of the Washington State Book award, the PNBA Best Book Award, and a finalist for the PEN USA Award. Her first book for adults, "He's Gone," was released from Random House in 2012, and was followed with "The Secrets She Keeps" in 2015. Coming this April: "Essential Maps for the Lost," her eleventh book for young adults. She lives with her family in Seattle.
~ Giveaway ~
Three winners will receive a finished copy of Essential Maps for the Lost! US only.
This is a tour-wide giveaway not sponsored by StuckInBooks. StuckInBooks is not responsible for selecting winners or sending prizes.


~ Tour Schedule ~
Week 2:
4/11:
Stuck In Books - Review
(you are here!!!)
4/12:
Who R U Blog - Novel Secrets
4/13:
Between the Pages - Review
4/14:
Jenuine Cupcakes - Top 10
4/15:
In Wonderland - Review