This is a weekly bookish meme hosted by MizB at
Should Be Reading
.
To participate you:
* Grab your current read
* Open to a random page
* Share two (2) "teaser" sentences from somewhere on that page
* BE CAREFUL NOT TO INCLUDE SPOILERS!
(Make sure that what you share doesn't give too much away! You don't want to ruin the book for others!)
* Share the title & author, too, so that other TT participants can add the book to their TBR Lists if they like your teasers!
He's a player in more ways than one…
College junior John Logan can get any girl he wants. For this hockey star, life is a parade of parties and hook-ups, but behind his killer grins and easygoing charm, he hides growing despair about the dead-end road he'll be forced to walk after graduation. A sexy encounter with freshman Grace Ivers is just the distraction he needs, but when a thoughtless mistake pushes her away, Logan plans to spend his final year proving to her that he's worth a second chance.
Now he's going to need to up his game…
After a less than stellar freshman year, Grace is back at Briar University, older, wiser, and so over the arrogant hockey player she nearly handed her V-card to. She's not a charity case, and she's not the quiet butterfly she was when they first hooked up. If Logan expects her to roll over and beg like all his other puck bunnies, he can think again. He wants her back? He'll have towork for it. This time around, she'll be the one in the driver's seat…and she plans on driving him wild.
Teaser...
He lightly strokes my cheekbone and I have to stop myself from purring like an affection-starved cat. "What are you doing?" I whisper.
"Well, you were looking at me like you wanted me to kiss you." His blue eyes become heavy-lidded. "So I was thinking I might do that." (Kindle location 443)
I do love Logan. He is constantly trying to figure out his mistake and make-up for it. Love him for his determination to overcome those mistakes. Hehe.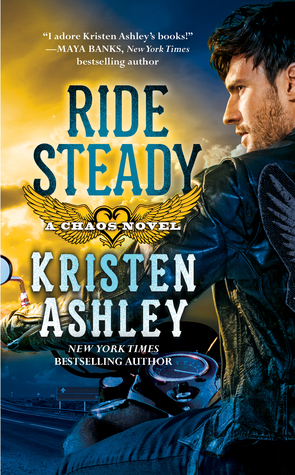 The ride of her life . . .
Once upon a time, Carissa Teodoro believed in happy endings. Money, marriage, motherhood: everything came easy---until she woke up to the ugly truth about her Prince Charming. Now a struggling, single mom and stranded by a flat tire, Carissa's pondering her mistakes when a vaguely familiar knight rides to her rescue on a ton of horsepower.
Climb on and hold tight . . .
In high school, Carson Steele was a bad boy loner who put Carissa on a pedestal where she stayed far beyond his reach. Today, he's the hard-bodied biker known only as Joker, and from the way Carissa's acting, it's clear she's falling fast. While catching her is irresistible, knowing what to do with her is a different story. A good girl like Carissa is the least likely fit with the Chaos Motorcycle Club. Too bad holding back is so damned hard. Now, as Joker's secrets are revealed and an outside threat endangers the club, Joker must decide whether to ride steady with Carissa---or ride away forever . . .
Teaser...
"Though, if I ever see your dad, even though I have no idea what he looks like, I won't be responsible for sending him a killing look."

There was a smile in his voice when he returned, "That you can do."

"And if he should later turn up with his car keyed, I'll say now, it wasn't me."
I finished this one over the weekend, and yeah. I can totally add another KA book to my list of favorites. I love Joker and Carissa!
Those are our teasers for this week! What do you think? Do you have a teaser to share? Leave us a comment and link us up!