This is a weekly bookish meme hosted by MizB at
Should Be Reading
.
* Share two (2) "teaser" sentences from somewhere on that page
* BE CAREFUL NOT TO INCLUDE SPOILERS!
(Make sure that what you share doesn't give too much away! You don't want to ruin the book for others!)
* Share the title & author, too, so that other TT participants can add the book to their TBR Lists if they like your teasers!
A Psy-Changeling novel from the New York Times bestselling author of Shards of Hope, Shield of Winter, and Heart of Obsidian..."the alpha author of paranormal romance" (Booklist).
Though DarkRiver sentinel Mercy is feeling the pressure to mate, she savagely resists when Riley Kincaid, a lieutenant from the SnowDancer pack, tries to possess her. The problem is not simply that he pushes her buttons; the problem is that he's a wolf, she's a cat, and they're both used to being on top.
But when a brilliant changeling researcher is kidnapped from DarkRiver territory, Mercy and Riley must work together to track the young man - before his shadowy captors decide he's no longer useful. Along the way, the two dominants may find that submitting to one another uncovers not just a deadly conspiracy, but a passion so raw that it'll leave them both branded by fire...
Teaser...
His hands were on her waist and his mouth on hers before she could do more than gasp. Lightening. Bright. Sizzling. Perfect. This time she did moan wrapping her arms around him and luxuriating in his strength, in the sheer speed with which he'd come at her. (Chaper 8 of the audio)
My obsession. My reward. This yummy series has me captured. I'm loving every bit of it. This is book 6 and I've already read (listened) books 1-5 TWICE! *sigh* So dang good.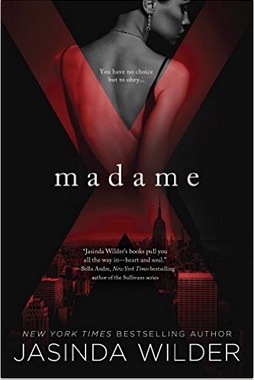 My name is Madame X.
I'm the best at what I do.
And you'd do well to follow my rules...
Hired to transform the uncultured, inept sons of the wealthy and powerful into decisive, confident men, Madame X is a master of the art of control. With a single glance she can cut you down to nothing, or make you feel like a king.
But there is only one man who can claim her body—and her soul.
Undone time and again by his exquisite dominance, X craves and fears his desire in equal measure. And while she longs for a different path, X has never known anything or anyone else—until now...
Book Links:
Teaser...
"There will never be another Madame X. There is no one else like you. You are special." This voice, these words, low, quavering with potent emotion, I do not know how to absorb them, how to react to them. "You are mine, X."
I ended up enjoying this one so much! The writing is gorgeous, and the story is utterly captivating. I reviewed
Madame X
yesterday, so if you want to see more of my thoughts (and enter the GIVEAWAY!),
click here
! :)
Those are our teasers for this week! What do you think? Do you have a teaser to share? Leave us a comment and link us up!