This is a weekly bookish meme hosted by MizB at
Should Be Reading
.
* Share two (2) "teaser" sentences from somewhere on that page
* BE CAREFUL NOT TO INCLUDE SPOILERS!
(Make sure that what you share doesn't give too much away! You don't want to ruin the book for others!)
* Share the title & author, too, so that other TT participants can add the book to their TBR Lists if they like your teasers!
First in the new Silver Valley series from the New York Times bestselling author of the Reapers Motorcycle Club Novels

Fourteen months. For fourteen months, Puck Redhouse sat in a cell and kept his mouth shut, protecting the Silver Bastards MC from their enemies. Then he was free and it was time for his reward—full membership in the club, along with a party to celebrate. That's when he saw Becca Jones for the first time and set everything in motion. Before the night ended he'd violated his parole and stolen her away from everything she knew.

Five years. It was five years ago that Puck destroyed Becca and saved her all in one night. She's been terrified of him ever since, but she's even more terrified of the monsters he still protects her from... But Becca refuses to let fear control her. She's living her life and moving forward, until she gets a phone call from the past she can't ignore. She has to go back, and there's only one man she can trust to go with her—the ex-con biker who rescued her once before.

Puck will help her again, but this time it'll be on his terms. No more lies, no more tears, and no more holding back what he really wants...
Teaser...
"You tell me," I snapped. "You were spying on us, right? Do you get off on watching, Puck?"
"No. I hate it when other men touch you. Haven't you figured that out yet?" (Page 131)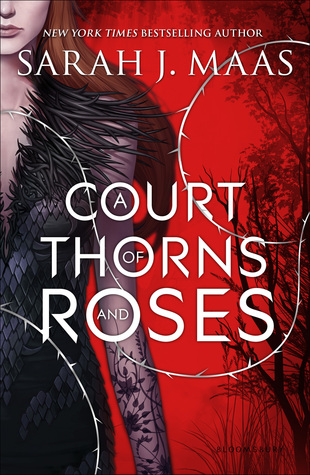 A Court of Thorns and Roses (A Court of Thorns and Roses #1) by Sarah J. Maas
A thrilling, seductive new series from New York Timesbestselling author Sarah J. Maas, blending Beauty and the Beast with faerie lore.
When nineteen-year-old huntress Feyre kills a wolf in the woods, a beast-like creature arrives to demand retribution for it. Dragged to a treacherous magical land she only knows about from legends, Feyre discovers that her captor is not an animal, but Tamlin—one of the lethal, immortal faeries who once ruled their world.
As she dwells on his estate, her feelings for Tamlin transform from icy hostility into a fiery passion that burns through every lie and warning she's been told about the beautiful, dangerous world of the Fae. But an ancient, wicked shadow grows over the faerie lands, and Feyre must find a way to stop it . . . or doom Tamlin—and his world—forever.
Perfect for fans of Kristen Cashore and George R. R. Martin, this first book in a sexy and action-packed new series is impossible to put down!
Releases May 5th, 2015
Teaser...
He smiled at me still, broadly and without restraint or hesitation. Isaac had never smiled at me like that. Isaac had never made my breath catch, just a little bit.
The feeling was startling enough that I walked out, grasping the crumpled paper in my pocket as if doing so could somehow keep that answering smile from tugging on my lips.
After taking forever and a half, I've finally sat down and finished this book, and... Y'ALL. It is amazing. I seriously love it so much. My review's going to go up sometime soon, so I'll save my gushing for that, but... AHHHH. THIS BOOK. Let's just say Sarah J. Maas has officially reserved her spot as one of my favorite authors. Like, officially. Because DANG, THIS BOOK. So much love.
Those are our teasers for this week! What do you think? Do you have a teaser to share? Leave us a comment!