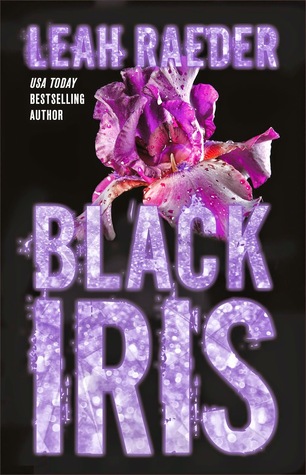 Source: e-ARC provided by the publisher in exchange for a fair and honest review.
Black Iris by Leah Raeder
The next dark and sexy romantic suspense novel from the USA Today bestselling author of Unteachable.
It only took one moment of weakness for Laney Keating's world to fall apart. One stupid gesture for a hopeless crush. Then the rumors began. Slut, they called her. Queer. Psycho. Mentally ill, messed up, so messed up even her own mother decided she wasn't worth sticking around for.
If Laney could erase that whole year, she would. College is her chance to start with a clean slate.
She's not looking for new friends, but they find her: charming, handsome Armin, the only guy patient enough to work through her thorny defenses—and fiery, filterless Blythe, the bad girl and partner in crime who has thorns of her own.
But Laney knows nothing good ever lasts. When a ghost from her past resurfaces—the bully who broke her down completely—she decides it's time to live up to her own legend. And Armin and Blythe are going to help.
Which was the plan all along.
Because the rumors are true. Every single one. And Laney is going to show them just how true.
She's going to show them all.
Book Links:
Review...
This is the first book I've read by Leah Raeder. I have Unteachable on my Kindle, but I've been too chicken to read it or something, so Black Iris crept up my TBR first. I've been excited about Black Iris for a while, so I was glad I was finally getting to pick it up. And thus the adventure that is BLACK IRIS began.
I started this book around 1 am on April 27th. I finished this book around 4 am on April 27th.
I kid you not.
You see, I was planning to start this book before going to sleep so I could jump in ready to finish it without a problem the next day. But this book is a trap. It's a freaking TRAP, and it's a trap of the best kind.
I'm incredibly conflicted on what to even say in this review, so I get the feeling it's going to be kind of short. And also probably kind of cryptic. Because heck to the no, I refuse to spoil this beauty for anyone.
First of all, in case you did not notice, I highly enjoyed this book. I LOST SLEEP for this book. If that doesn't tell you something, I don't know what will.
Now, I'm going to break down the WONDERFUL things about Black Iris.
The best part of this book for me was the writing. So beautiful. Seriously, there were some extremely ugly things in this novel, but the way they were written was masterful. I think I'll read anything Leah Raeder writes just so I can bear witness to the beauty. I don't even know what else to say about this because it's just something you have to experience. It's enthralling.
I didn't like a single one of these characters. And that actually IS a positive comment. Because I didn't like the characters, but I was still interested in them. Fascinated. I cared. I wanted to know what was happening, how things would turn out. And the characters were raw and complex. Nothing to get bored with, not at all run of the mill. They were individuals with layers, and I wanted to know all.
Oh wait, I DID like a character. Two, actually. Neither of them main characters, though--Josh and Donnie. Other than those two, though, I liked no one.
But, as I said, it is a huge compliment to the story and storytelling that I enjoyed this book immensely without liking the characters. It's not about liking them, it's about unraveling their story. I was completely into that.
Speaking of the story... This entire thing goes so deep. Just reading Black Iris digs into your soul. As I said, it's a trap. Once you're in, there's only one way out. And traveling through this book to that exit in the end... it's an experience. It's twisty and gritty and dark and convoluted. It's confusing. It's interesting. And it's a masterpiece. Honestly.
As for the twist... It got me. It freaking got me.
And now is where I mention the one thing about this book I didn't particularly love.
The romance.
NOT because of the dynamics. I was glad for the diversity. I'm glad I read it, and I'm glad I now have a very solid rec for people searching for more diverse reads.
No, that was not my problem. My PROBLEM was that none of the relationships in this book were stable enough for me to depend on. None of them showed any promise. So I had no team to root for. I didn't trust anyone, and I never felt like anything was going to work out. I don't expect every romance I read to have a couple together the entire book. I do, however, prefer for at least one love interest to show promise. To give me hope of something solid to come in the future. Even if it's a lie and I end up so very wrong--at least I had a couple to ship while reading. In Black Iris, I trusted no one and liked no one and had no hope for any of the couples.
As a whole, Black Iris is AMAZING. It's unique and honest and raw. If you like dark, twisted novels filled with gorgeous writing, pick this baby up.
4 stars - A dark, twisted novel that I highly enjoyed!
About the Author...
Leah Raeder is a writer and unabashed nerd. Aside from reading her brains out, she enjoys graphic design, video games, fine whiskey, and the art of self-deprecation. She lives with her very own manic pixie dream boy in Chicago. Visit her at LeahRaeder.com.
Author Links: