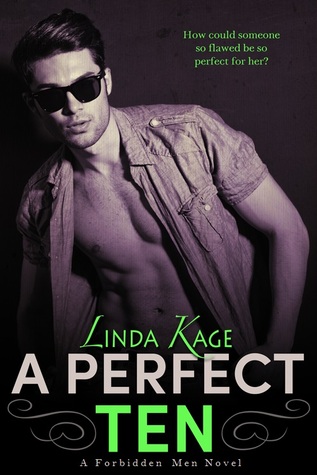 Source: e-ARC provided by the author in exchange for a fair and honest review.
A Perfect Ten (Forbidden Men #5) by Linda Kage
Let your hair down, Caroline, they said. It'll be fun, they said.
I know I've closed myself off in a major way over the past year, ever since "the incident" where I messed up my life completely. It's past time I try to live again or just give up altogether. But this is quite possibly the craziest thing I've ever done. In a last ditch effort to invigorate myself, I'm standing outside Oren Tenning's bedroom, I just peeled off the sexiest pair of underwear I own, and my hand is already raised to knock. My brother would disown me for doing anything with his best friend, and he'd probably kill Oren. But if I play my cards right, no one will ever know about this. Not even Ten.
Maybe after tonight, I'll finally get over this stupid, irrational crush I hate having on the biggest jerk I've ever met. Or maybe I'll just end up falling for him even harder. Maybe I'll discover there's so much more to my crude, carefree hunk than meets the eye.
Review...
Once upon a time, Val was reading a book. She was reading this book and got to a point where she wasn't exactly sure how she felt about it. As she usually does when she encounters such situations, Val called me to discuss. And in that discussion not only did we decide that the book had serious potential, but that I needed to read the book, too. So I did read it. Val finished it first and loved it. And then I finished it...and I freaking ADORED it.
Honestly, thank goodness for that conversation Val and I had because in convincing me to pick this book up, I found what has been my favorite read of 2015 so far and a new series to obsess over.
Yeah, I said it. A PERFECT TEN has been my favorite read of 2015 so far.
This is the fifth book in the Forbidden Men series, but they can all stand alone. Which, yes, I know lots of series say that. But I can attest to this one--I read book 5 first. Then I read books 1 and 2, and at this point I still have not read books 3 and 4, but I definitely plan to as soon as I can swing it. I didn't get lost when reading this because it was the fifth book. I didn't feel like I was missing things. And it also didn't take away any of my eagerness to read the first four books. So, if you feel so inclined to start with this book, I can firmly say go for it. It worked for me.
The main characters of this one are Oren and Caroline. I'm going to be up front with y'all right now and say that I prefer to call him Oren. I realize pretty much everyone calls him Ten, but Caroline calls him Oren and I like that better. And the fact that he LETS her call him Oren warms my heart. As does loads of other things about Mr. Oren Tenning. He's one of those manwhore bad boys who try to act like they don't really care about much, but in actuality he's a wonderful human. A sad past that he still struggles with weighs on him, as well. But getting to know him in this book... goodness, I loved it. As for Miss Caroline--I honestly do not think there could be a more perfect girl for Oren. She can be sweet, but she doesn't sit back and take his crap either. I like Caroline a lot. She's a cool chick, and her past weighs on her just as much as Oren's does.
The romance in this book was the definition of perfection. There's a bunch of time with Oren and Caroline as a couple, which was amazing. So often in books, the couple takes a while to get together, and even then they're pretty rocky. I understand why, but I was so glad these two weren't like that. I think the first four books was build up enough for them so that they didn't have to take a huge chunk of THIS book to get together. However it worked out, I'm glad it worked out the way it did. I loved seeing Oren and Caroline together. They are the literal cutest. And while they both have those pasts weighing on them, they also have the other to help them work through it. They are such solid support systems for each other. In general, this couple warmed my heart in all of the ways and I love them to infinity and beyond.
As for plot, the entire thing worked so well. I think that's one of the greater things about this book. There are time when things feel like they're on the edge of going wrong, and then instead of turning for the worst they head toward the better and turn out great--even if that "great" isn't what I'd originally pictured, it still made me feel so, so happy. Linda Kage's writing was super good, too. The novel is written in dual POV, with Caroline and Oren both having very distinct voices.
Overall, A Perfect Ten is the kind of book that reminds me why I love to read so much. I had no qualms with losing touch with the world for a few days so I could immerse myself in Oren and Caroline's story. Fabulous romance, an addicting story, and characters that I just cannot forget created this lovely fifth installment in the Forbidden Men series. I can't wait to read more!
5 stars - A beautiful romance with lovable characters that I wished could go on forever!