(Click the banner above to check out the full tour schedule!)
~ About the Book ~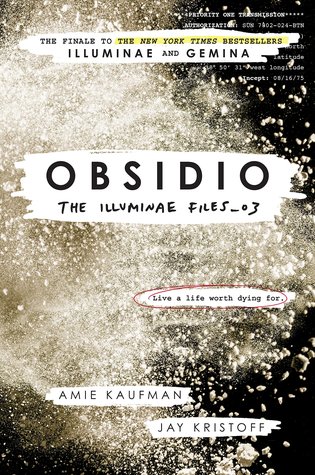 Source: Book provided by publisher in exchange for a fair and honest review.
Kady, Ezra, Hanna, and Nik narrowly escaped with their lives from the attacks on Heimdall station and now find themselves crammed with 2,000 refugees on the container ship, Mao. With the jump station destroyed and their resources scarce, the only option is to return to Kerenza—but who knows what they'll find seven months after the invasion?
Meanwhile, Kady's cousin, Asha, survived the initial BeiTech assault and has joined Kerenza's ragtag underground resistance. When Rhys—an old flame from Asha's past—reappears on Kerenza, the two find themselves on opposite sides of the conflict.
With time running out, a final battle will be waged on land and in space, heroes will fall, and hearts will be broken.

**Spoilers for books 1&2 in this review, so if you haven't read the first 2 books in the series please skip to the "overall" portion of this review so I can recommend this series to you and everyone you know! :) (NO spoilers for Obsidio, so no worries there)**

As per usual with the final book in any series, especially a series I adore, I was terrified to pick this book up. After loving the absolute heck out of Illuminae and then Gemina, Obsidio was super intimidating. So, of course, I stalled with picking up Obsidio. I received it at the end of February but didn't really start reading it until my spring break started in the second week of March. Aaaaand I devoured Obsidio in barely a day. Because, yes, it was AMAZING.

Again we are introduced to a new set of characters with this installment, but in this one we also get A LOT of characters from the previous books -- something that I LOVED. Like, seriously. I was 500% here for Hanna and Nik and Kady and Ezra and seeing them deal with issues that are still arising for them (because can they ever catch a break??) and just how they get to the point of compiling these Illuminae Files. My favorite parts of Obsidio were with these characters I've been obsessed with for two whole books.

And SPEAKING OF these characters I love, can we take a second and appreciate Isaac Grant? Because he is a fantastic person, and a phenomenal father. Honestly, the part where I cried hardest in this book (really, we all knew I'd cry at some point -- I've cried for every book in this freaking beautiful series) was when he was being supportive. I didn't expect him to be a character I enjoyed so much, but man is he a favorite.

Also, obligatory mention of how much I heart AIDAN. So many FEELINGS, Y'ALL. Gaaaaaaaaaahhhhh.

As for the new characters we're introduced to in Obsidio, I liked them. However, I don't feel like I connected to them nearly as much as I did with the cast of books 1 & 2. I think this is a ME thing, because I was so anxious to see my faves get through everything, but it took me a while into the book to really get into the characters on Kerenza. By the end of the book, I ended up with fond feelings for Rhys and Asha and a few others we met but as I said, not quite as much as I adore the others.

Even so, I was head over heels for this entire book. I stalled in starting it, but once I did I was IN. Putting it down was nearly impossible (but I did it because I had to, you know, sleep...unfortunately). Just like with the first two installments, Obsidio was intense from beginning to end. And the lovely formatting of the book (just like the rest of the series) only made the pacing even more effective. I wish I could describe it adequately, how moving it is to be so into the story and flipping through the pages, then to come to a page that's like IT'S ME and then BAM I'm like OHMYGOSH. (That was not a spoiler, that was a vague description of a thing that I will not further explain, teehee.) But anyway, I'm sure if you've read the first two books you probably understand -- so I'll say that the fast paced intensity is no less prominent in this third book.

Overall, Obsidio is one of the best series enders I've read. Ever. And the entire Illuminae Files is one of the best series I've read. Ever. I am so gone, head over heels for, in love with these three books. I cannot express enough how much I recommend picking these books up. They're a reading experience no one should miss!
4.5 stars - A stunning conclusion to one of the best series I've ever read!
Amie Kaufman
is the New York Times bestselling co-author of These Broken Stars and This Shattered World, and Illuminae, the first in a new series starting in 2015. She writes science fiction and fantasy for teens, and her favourite procrastination techniques involve chocolate, baking, sailing, excellent books and TV, plotting and executing overseas travel, and napping.
She lives in Melbourne, Australia with her husband, their rescue dog, and her considerable library. She is represented by Tracey Adams of Adams Literary.
Jay Kristoff
is the award-winning author of THE LOTUS WAR trilogy, a Japanese-inspired steampunk fantasy. Part 3, ENDSINGER, is out now. He's also co-author of the upcoming ILLUMINAE (with Amie Kaufman), a YA Sci-Fi... thing, to be released by Knopf/Random House in 2015, and NEVERNIGHT, the first part of a new fantasy trilogy kicking off in 2016.
Jay is 6'7 and has approximately 13380 days to live. He abides in Melbourne with his secret agent kung-fu assassin wife, and the world's laziest Jack Russell.
He does not believe in happy endings.
- Three (3) winners will receive a copy of OBSIDIO!
- US only
Enter through the Rafflecopter below!!
This giveaway is not sponsored by StuckInBooks. StuckinBooks is not responsible for selecting winners or sending out prizes.