This is a weekly bookish meme hosted by MizB at
Should Be Reading
.
To participate you:
* Grab your current read
* BE CAREFUL NOT TO INCLUDE SPOILERS!
(Make sure that what you share doesn't give too much away! You don't want to ruin the book for others!)
* Share the title & author, too, so that other TT participants can add the book to their TBR Lists if they like your teasers!
Lady Murine Carmichael has known her share of bad luck. But when her debt-ridden half-brother tries to sell her off in exchange for a few Scottish horses, it's the final straw. If keeping her freedom means escaping through harsh countryside alone, so be it. She has barely begun her journey when she lands an unlikely escort—the brawny Highlander who just refused to buy her virtue.
Dougall Buchanan was disgusted by Lord Danvries' shameful offer, but Murine herself tempts him beyond measure. Even bedraggled and dusty, the lass glows with beauty and bravery. Dougall wants to do more than just help her flee. He wants to protect her—with his life and his heart—if she'll only let him. For Murine may be pursued by a powerful foe, but nothing compares to the fiery courage of a Highlander in love.
Teaser...
To distract her, he asked, "And why was yer brother so annoyed with ye?"
"I've no idea," she assured him, nose in the air, then grinned and admitted, "He claimed it was because I took his wooden warrior Da had carved for him and got it all muddy playing with me dolls with it."
"And did ye?"
"Aye," she admitted on a laugh. "I was pretending the wooden warrior was me betrothed come to fight off a mud monster to save me dolls." She chuckled and shook her head. "I do no' think Peter ever managed to get all the mud off his warrior. It was ground right into the wood grain in places."
Dougall smiled, preferring this happy laughing woman to the one he'd come to know. He determined then to do what he could to always see her happy and laughing. (Page 110)
I'm enjoying this one! My first book by this author and it won't be the last!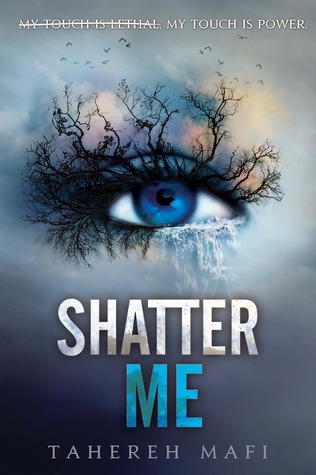 I have a curse
I have a gift
I am a monster
I'm more than human
My touch is lethal
My touch is power
I am their weapon
I will fight back
Juliette hasn't touched anyone in exactly 264 days.
The last time she did, it was an accident, but The Reestablishment locked her up for murder. No one knows why Juliette's touch is fatal. As long as she doesn't hurt anyone else, no one really cares. The world is too busy crumbling to pieces to pay attention to a 17-year-old girl. Diseases are destroying the population, food is hard to find, birds don't fly anymore, and the clouds are the wrong color.
The Reestablishment said their way was the only way to fix things, so they threw Juliette in a cell. Now so many people are dead that the survivors are whispering war – and The Reestablishment has changed its mind. Maybe Juliette is more than a tortured soul stuffed into a poisonous body. Maybe she's exactly what they need right now.
Juliette has to make a choice: Be a weapon. Or be a warrior.
Teaser...
I've tried so hard to stop thinking about him.
I've tried so hard to forget his face.
I've tried so hard to get those blue blue blue eyes out of my head but I know him I know him I know him it's been 3 years since I last saw him.
I could never forget Adam.
But he's already forgotten me.
I'm re-reading this book, since it's been five years since I first read it and would like to continue with the series, and I'm falling in love with it all over again. I adore this book. The WRITING. Ahhhh I love it.
Those are our teasers for this week! What do you think? Do you have a teaser to share? Leave us a comment and link us up!