This is a weekly bookish meme hosted by MizB at
Should Be Reading
.
To participate you:
* Grab your current read
* BE CAREFUL NOT TO INCLUDE SPOILERS!
(Make sure that what you share doesn't give too much away! You don't want to ruin the book for others!)
* Share the title & author, too, so that other TT participants can add the book to their TBR Lists if they like your teasers!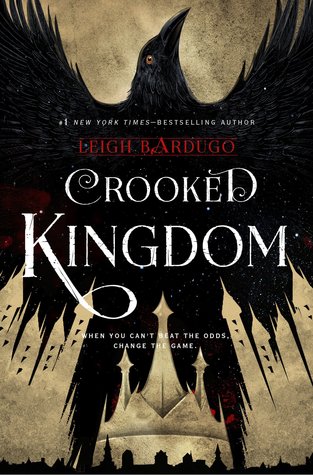 Kaz Brekker and his crew have just pulled off a heist so daring even they didn't think they'd survive. But instead of divvying up a fat reward, they're right back to fighting for their lives. Double-crossed and left crippled by the kidnapping of a valuable team member, the crew is low on resources, allies, and hope. As powerful forces from around the world descend on Ketterdam to root out the secrets of the dangerous drug known as jurda parem, old rivals and new enemies emerge to challenge Kaz's cunning and test the team's fragile loyalties. A war will be waged on the city's dark and twisting streets―a battle for revenge and redemption that will decide the fate of magic in the Grisha world.
Teaser...
"Staying on task?" Jesper couldn't resist asking.
"I'm teaching Matthias all about fun. He's an excellent student. Diligent in his lessons."
"Nina--" Matthias warned.
"Has problems with attitude. Shows room for improvement."
Inej nudged the bottle of coffee extract toward Jesper. "Try to be cautious tonight, Jes."
"I'm about as good at cautious as Matthias is at fun."
"I'm perfectly good at fun," Matthias growled.
"Perfectly," Jesper agreed.
I just finished this book Sunday night, and it was magnificent. I'm sad it's over but also so pleased with how it ended--though I'm not quite sure what to do with my life now. I love these books so much!
That's our teaser for this week! What do you think? Do you have a teaser to share? Leave us a comment and link us up!