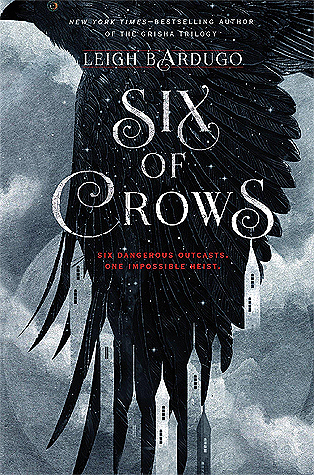 Source: Purchased.
Ketterdam: a bustling hub of international trade where anything can be had for the right price—and no one knows that better than criminal prodigy Kaz Brekker. Kaz is offered a chance at a deadly heist that could make him rich beyond his wildest dreams. But he can't pull it off alone...
A convict with a thirst for revenge
A sharpshooter who can't walk away from a wager
A runaway with a privileged past
A spy known as the Wraith
A Heartrender using her magic to survive the slums
A thief with a gift for unlikely escapes
Kaz's crew are the only ones who might stand between the world and destruction—if they don't kill each other first.
After hearing nothing but great things about Six of Crows since it released last year, I finally picked it up right before Crooked Kingdom released. It's a very hyped up book, which I tried not to let affect me--but of course my expectations were high. Especially considering one of my best friends raved about this book when it released and had been nudging me to read it ever since. But, of course, my friend is a freaking genius and recommends amazing books and Six of Crows was no exception. Honestly and truly, Six of Crows is one of my favorite books ever.
I didn't read the Grisha trilogy (and I really have no plans to), but that didn't impact my reading experience of Six of Crows at all. Leigh Bardugo's world-building was solid and so vivid. Throughout the whole story, I felt like I had a great grasp on the world, both in setting (I can clearly imagine what Ketterdam and the Ive Court were like) and the systems (of magic and of power).
Then there's just the plain fact that, beyond world-building, Leigh Bardugo's writing is magnificent. I enjoyed Six of Crows so much and wanted to readreadread to see what would happen next, but I was also tempted to savor every single word (which is what I did). Reading this book was honestly a treat, and I am so excited to read it someday hopefully soon.
And one cannot forget the amazing cast of characters. There are six main characters, and they are all diverse and fleshed out and deep and I loved them all. My favorites were Kaz and Inej (Inej just a little more than Kaz, actually). Kaz is such a complicated character, and I adored him. And Inej...I was taken with her from her first chapter. She's so badass and I am on her team all day every day.
Along with the fleshed out characters, there were so many different relationships within this story. Strong friendships that are such goals. Fragile romantic progressions that NEED TO WORK OUT OR I WILL CRY. And so much growth within both of those types of relationships that was the best to experience. I am so here to see where things go for these characters in the next book.
Overall, Six of Crows is not only one of my new all-time favorite books, but I would also branch out to say that it is one of the best books I have ever read. The writing is lovely, the plot is riveting, the characters are complicated, and the relationships are worth sticking around for. And all that only touches the surface of what this book has to offer! I adored this book, and I recommend at least giving it a chance or else you are totally missing out.
5 stars - A new all-time favorite that I highly recommend!