~ About the Book ~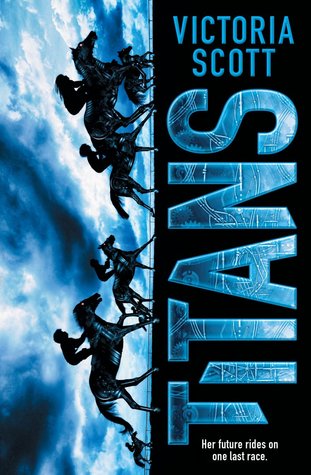 Source: ARC provided by the publisher in exchange for a fair and honest review.
From Victoria Scott, author of FIRE & FLOOD, comes a thrilling story of impossible odds.
Ever since the Titans first appeared in her Detroit neighborhood, Astrid Sullivan's world has revolved around the mechanical horses. She and her best friend have spent countless hours watching them and their jockeys practice on the track. It's not just the thrill of the race. It's the engineering of the horses and the way they're programmed to seem so lifelike. The Titans are everything that fascinates Astrid, and nothing she'll ever touch.
She hates them a little, too. Her dad lost everything betting on the Titans. And the races are a reminder of the gap between the rich jockeys who can afford the expensive machines to ride, and the working class friends and neighbors of Astrid's who wager on them.
But when Astrid's offered a chance to enter an early model Titan in this year's derby, well, she decides to risk it all. Because for a girl from the wrong side of the tracks, it's more than a chance at fame or money. Betting on herself is the only way she can see to hang on to everyone in the world she cares about.
Book Links:
~ Review ~
I've been pretty pumped about Titans for a good long while. I mean, with a freaking awesome premise like this paired with the fact that Victoria Scott, one of my favorite authors, wrote it, how could I not be? So I basically was bouncing off the walls when this book landed in my mailbox. And then the excitement returned again when it was finally time to sit down and read this baby. Lucky for me, all that excitement was 100% warranted, and I LOVED this book.
What captivated me first and foremost about Titans was the premise. A girl named Astrid racing in the Titan Derby so she can use the winnings to save her family's home (and, ultimately, bring her family together). Everything about that was something I wanted to read. The races, of course, which were intense and always so very fun to read. And Astrid's struggle, something I found easy to relate to and understand.
Within the story, there are several characters that make it a joy to read. Astrid, the main character, who is smart and strong and a great narrator. I enjoyed being in her head while she told her story. Magnolia, Astrid's best friend, who is quirky and fun and a total fashionista. Rags, who begins as an old man giving Astrid a chance but grows to be so much more. I adored him, and his moments with Astrid were some of my favorite. Hart, who I totally admit to having a crush on. And then there's Dottie and Barney, both characters who help Astrid while also adding lightheartedness and laughs.
And then there is Padlock. No way I could forget about Padlock. He honestly deserves his own section as one of my favorite aspects of Titans because dear goodness, I am head over heels for this steel horse. He wormed his way into my heart and I don't foresee him leaving anytime soon. Or ever. Truly, if you need one reason to pick up this novel, Padlock could totally be it. He's worth it.
Victoria Scott's writing was stunning. The entire book had a very specific tone to it that caught my attention from the first page and kept me hanging on through the last word. It was intense and lovely and I enjoyed every moment of it. The story begins with a peek at the Titan races before Astrid joins them, and then dives into Astrid's life and what leads to her jumping on her own horse. There are several races throughout the novel, and they didn't all come at the very end, which I loved. The first race happens less than 100 pages in, and then there are a few more after that with other aspects of the story -- like training and other aspects of Astrid's life -- in between.
Those other aspects of the story were both interesting and enjoyable, as well. Seeing Astrid's friendship with Magnolia, and her growing friendships with the people she meets in this novel, was fantastic. Astrid's family also has loads of moments, and those facets of Titans were some of my favorite to see evolve throughout the story.
Romance is not a huge part of Titans. There are some romantic elements on the side, but the Astrid does not have a romance herself. Honestly, this was something that worried me when I began reading. I had every confidence that I'd like the book, since I was already sold on the premise, but I'm a reader who strives on romance. If there wasn't much to speak of, surely my reading experience would suffer, right? WRONG. Wrong, wrong, so very wrong. There were so many other things going on in this story (Titan races, friendships, family) that the lack of romance for Astrid was not something I was concerned about. I was pulled into Astrid's life and the races and Padlock, and fell in love with Titans. So if you're worried about romance in this book the way I was, pick it up anyway and give it a shot.
Overall, Titans is an intense, gorgeous story that totally made me cry. I loved everything about this stunning novel, and I definitely recommend picking it up!
5 stars - Intense and full of heart, fun and absolutely stunning. I definitely recommend picking this one up!
Victoria Scott is a teen fiction writer represented by Sara Crowe of the Harvey-Klinger Literary Agency. She's the author of the FIRE & FLOOD series, and TITANS published by Scholastic, and the DANTE WALKER trilogy published by Entangled Teen. Her books have been bought and translated in eleven foreign markets including the UK, Turkey, China, Poland, Israel, Germany, Australia, Brazil, Taiwan, New Zealand, and the Netherlands.
Victoria lives in Dallas with her husband and hearts cotton candy something fierce.
~ Giveaway ~
Five winners will receive a finished copy of Titans! US only.
This is a tour-wide giveaway not sponsored by StuckInBooks. StuckInBooks is not responsible for selecting winners or sending prizes.


~ Tour Schedule ~
Week 2:
2/22/2016-
Seeing Night Reviews
-
Review
2/23/2016-
Mundie Moms
-
Review
2/24/2016-
The Book Cellar
-
Excerpt
2/25/2016-
Krista's Dust Jacket
-
Review
2/26/2016-
Addicted to Happily Ever After
-
Review