The fabulous girls over at
YA Bound
created this super HOT meme. Here's how it works.
From the book you're currently reading, or one you just finished, tell us what made you SWOON. What got your heart pounding, your skin tingling, and your stomach fluttering.
Shout it out on Twitter with the hashtag #YABound, post it here in the comments, or grab the adorable button above and share it on your blog! I want to know & so do the chicks at YABound!
Shelter Me (Second Chance Ranch, #1) by Catherine Mann
From USA Today bestselling author Catherine Mann comes this beautiful, heartwarming novel about a returning military officer, the daughter of his fallen commander, and a very special dog with a mission. For fans of Jill Shalvis and Susan Mallery.

Nestled in the sunny fields of Tennessee lies the McDaniel family's Second Chance Ranch Animal Rescue. Two new arrivals are on their way, but only one is the four-legged kind.

Staff Sergeant Mike Kowalski wants only one thing after he gets home from Iraq: to sleep in a king-sized bed with clean sheets. But first, he has to hand off his fallen commander's dog, Trooper, to his family without handing off his heart to Sierra…

Sierra McDaniel needs a break. Her family life is crazy, and when she's not mucking out kennels, she's slogging through grad school. Sierra certainly doesn't want another dog, especially one that reminds her of her father. And she definitely doesn't want to see Mike with that charming smile of his…

But Trooper has a mission of his own. Before too long Mike is moving to the ranch to lend a hand—and hoping for his own second chance with Sierra.
Swoon...
His hands slid from her shoulders up to cradle her face. A sigh melted through her. She leaned into him, her lips parting. She'd ached for this during the long nights thinking of him, worrying for him, accepting she'd given up any right to know what happened to him.

She gripped the warm cotton of his T-shirt in tights fists and wished the moment could be held as firmly. The taste of sweet teas and Mike intoxicated her, and she was so glad she'd taken this moment. (Page 66-67)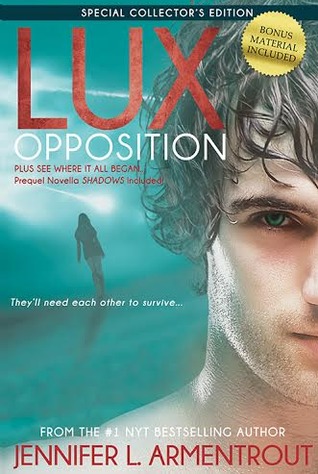 Opposition (Lux #5) by Jennifer L. Armentrout
Katy knows the world changed the night the Luxen came.
She can't believe Daemon welcomed his race or stood by as his kind threatened to obliterate every last human and hybrid on Earth. But the lines between good and bad have blurred, and love has become an emotion that could destroy her—could destroy them all.
Daemon will do anything to save those he loves, even if it means betrayal.
They must team with an unlikely enemy if there is any chance of surviving the invasion. But when it quickly becomes impossible to tell friend from foe, and the world is crumbling around them, they may lose everything— even what they cherish most—to ensure the survival of their friends…and mankind.
War has come to Earth. And no matter the outcome, the future will never be the same for those left standing.
Swoon...
Her lower lip trembled as she shifted her weight from one foot to the other, her toes sinking into spilled conditioner or shampoo. An eternity stretched out between us as I soaked her up with my eyes. A collage of memories--from the day she knocked on my front door and changed my life, to the first time she said those three words that made my life what it was--bombarded me. But it was more than just memories. I knew right then I shouldn't be feeling what I was, but every cell demanded her. My blood boiled.
I wanted her.
I needed her.
I loved her.
What do you think? Have a swoon for us? Leave us a comment.