This is my version of Waiting on Wednesday but with more cuddles, books I can't wait to cuddle for various reasons.
A rescued dog returns the favor in the latest Second Chance Romance from USA Today bestselling author of Shelter Me.

Detective AJ Parker left undercover work in Atlanta to join a small-town Tennessee police force, hoping for an easier workload and the solitude of his cabin. But the scars left by AJ's previous work are more difficult to escape than he thought…

Mary Hannah Gallo works with the Second Chance Ranch Animal Rescue to train therapy dogs for traumatized patients. It isn't easy, but her life is under control—until she meets the broodingly sensual AJ, who rattles her composure all the way to her toes.

After an assignment confiscating dogs from a backyard breeder reveals a dangerous drug operation, AJ must work with sexy perfectionist Mary Hannah to train an abused rescue dog—a dog now named Holly. While Holly proves to these two very different people that opposites can, in fact, attract, she also knows more than a few explosive secrets that could heal—or divide—the entire town.
Why am I waiting? I just read book one and LOVED it! You can check out
my review HERE
. Looking forward to more from this series.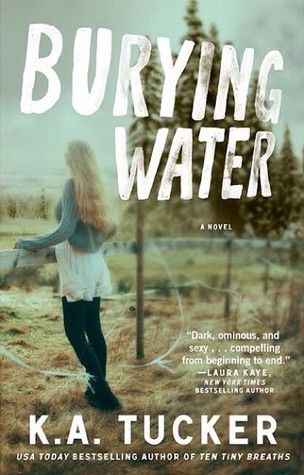 The top-selling, beloved indie author of
Ten Tiny Breaths
returns with a new romance about a young woman who loses her memory—and the man who knows that the only way to protect her is to stay away.
Left for dead in the fields of rural Oregon, a young woman defies all odds and survives—but she awakens with no idea who she is, or what happened to her. Refusing to answer to "Jane Doe" for another day, the woman renames herself "Water" for the tiny, hidden marking on her body—the only clue to her past. Taken in by old Ginny Fitzgerald, a crotchety but kind lady living on a nearby horse farm, Water slowly begins building a new life. But as she attempts to piece together the fleeting slivers of her memory, more questions emerge: Who is the next-door neighbor, quietly toiling under the hood of his Barracuda? Why won't Ginny let him step foot on her property? And why does Water feel she recognizes him?
Twenty-four-year-old Jesse Welles doesn't know how long it will be before Water gets her memory back. For her sake, Jesse hopes the answer is never. He knows that she'll stay so much safer—and happier—that way. And that's why, as hard as it is, he needs to keep his distance. Because getting too close could flood her with realities better left buried.
The trouble is, water always seems to find its way to the surface.
What am I waiting? Because I ADORED K.A. Tucker's Ten Tiny Breaths. I'm so excited for more of her beautiful, enthralling writing. Plus, this story sounds completely amazing. So yeah, I seriously cannot wait!
What do you think? What are you waiting on? Leave us a comment.