This is our version of Waiting on Wednesday but with more cuddles, books we can't wait to cuddle for various reasons.
What are we waiting on this week? THIS!
A KGI novel of nonstop suspense and explosive passion from the #1 New York Times bestselling author of Brighter Than the Sun.
The Kelly Group International (KGI)
A super-elite, top secret, family-run business.
Qualifications
High intelligence, rock-hard body, military background.
Mission
Hostage/kidnap victim recovery. Intelligence gathering. Handling jobs the U.S. government can't...
When some well-deserved R & R turns into a volatile situation for Skylar Watkins, she knows her team will never get to her in time. Her only hope is a promise once made to her by a desperate, grateful man--and his squad is within range...
Driven by a steely demeanor and fierce loyalty, the warrior now tasked with saving Skylar's life knows her value to the KGI. He's seen firsthand how daring--and lethal--she can be. He'll get her back or die trying, but what he isn't prepared for is the desire to keep her close, for wanting her to remain in his arms and under his watch...forever.
I've enjoyed this author and this series. Always excited for some more of the good stuff. You?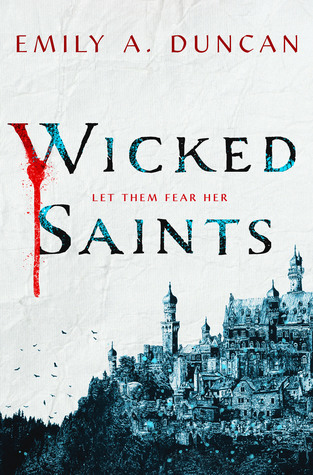 A girl who can speak to gods must save her people without destroying herself.
A prince in danger must decide who to trust.
A boy with a monstrous secret waits in the wings.
Together, they must assassinate the king and stop the war.
In a centuries-long war where beauty and brutality meet, their three paths entwine in a shadowy world of spilled blood and mysterious saints, where a forbidden romance threatens to tip the scales between dark and light.
Wicked Saints
is the thrilling start to Emily A. Duncan's devastatingly Gothic Something Dark and Holy trilogy..
Releases April 2nd, 2019!
Why am I waiting? That synopsis kills me. This book sounds like literally everything I want in YA. WHY is April so far away, I cannot wait for this boooook!
That's what we're waiting on this week! What do you think? What are you waiting on? Leave us a comment and link us up!