Who doesn't LOVE a good swoon?! We love them for sure! Check out our swoon below and then add to the fun.
Post anything that made you swoon, past or present read. Include the cover, blurb and links. Please no spoilers.
I just met the girl of my dreams.
Megan Davenport is funny and smart, and she's as much of an insomniac as I am. She's also my team captain's little sister, which I only found out after our passionate kiss.
Megan is completely off-limits—her brother makes that very clear—and I know better than to think I can keep a relationship going during hockey season anyway. But that doesn't mean we can't be late-night friends, right?
The only problem is, love makes you do crazy things, like breaking all the rules.
Swoon...
I took a large stride forward, grabbed her arm and spun her around, and crashed my lips into hers.
She curled her hands into my shirt, tugging me closer, and I happily complied. I dug my gingers into her silky-soft hair, cupping the back of her head so I could deepen the kiss. She parted her lips, and I pressed her flat to the door as my tongue met hers. When she sucked my bottom lip into her mouth, I groaned, my blood firing hotter and hotter through my veins, and my hard-on straining against the zipper of my jeans. (Kindle location 364)
Enjoying this one! Have loved this series!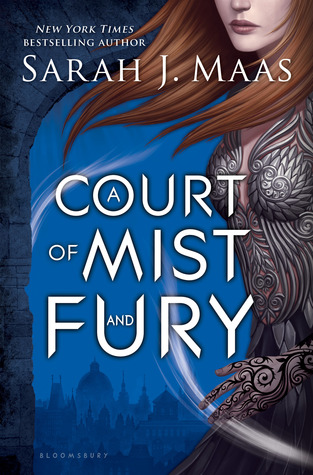 Feyre survived Amarantha's clutches to return to the Spring Court—but at a steep cost. Though she now has the powers of the High Fae, her heart remains human, and it can't forget the terrible deeds she performed to save Tamlin's people.
Nor has Feyre forgotten her bargain with Rhysand, High Lord of the feared Night Court. As Feyre navigates its dark web of politics, passion, and dazzling power, a greater evil looms—and she might be key to stopping it. But only if she can harness her harrowing gifts, heal her fractured soul, and decide how she wishes to shape her future—and the future of a world cleaved in two.
With more than a million copies sold of her beloved Throne of Glass series, Sarah J. Maas's masterful storytelling brings this second book in her seductive and action-packed series to new heights.
Swoon...
"Of course I'll dance with you," Rhys said, his voice still raw. "All night, if you wish."
"Even if I step on your toes?"
"Even then."
This book is life. I love it SO FREAKING MUCH. And this part absolutely warms my heart! So. Sweet. <3
That's our swoon this week! What about you? Leave us a comment & a link.