Who doesn't LOVE a good swoon?! We love them for sure! Check out our swoon below and then add to the fun.
Post anything that made you swoon, past or present read. Include the cover, blurb and links. Please no spoilers.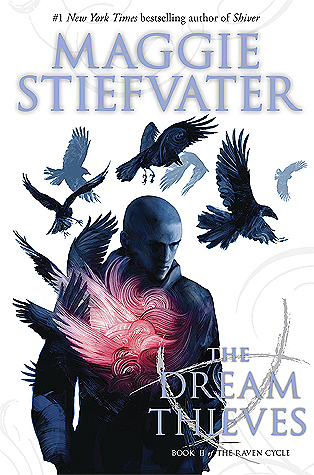 If you could steal things from dreams, what would you take?
Ronan Lynch has secrets. Some he keeps from others. Some he keeps from himself.
One secret: Ronan can bring things out of his dreams.
And sometimes he's not the only one who wants those things.
Ronan is one of the raven boys—a group of friends, practically brothers, searching for a dead king named Glendower, who they think is hidden somewhere in the hills by their elite private school, Aglionby Academy. The path to Glendower has long lived as an undercurrent beneath town. But now, like Ronan's secrets, it is beginning to rise to the surface—changing everything in its wake.
Of
The Raven Boys
,
Entertainment Weekly
wrote, "Maggie Stiefvater's can't-put-it-down paranormal adventure will leave you clamoring for book two." Now the second book is here, with the same wild imagination, dark romance, and heart-stopping twists that only Maggie Stiefvater can conjure.
Swoon...
What a strange, shifting person he was. The Gansey who turned to her now was a world away from the lofty boy she'd first met. Without any hesitation, she stretched her arms around his neck. Who was this Blue? She felt bigger than her body. High as the stars. He leaned toward her -- her heart spun again -- and pressed his cheek against hers. His lips didn't touch her skin, but she felt his breath, hot and uneven, on her face. His fingers splayed on either side of her spine. Her lips were so close to his jaw that she felt his hint of stubble at the end of them. It was mint and memories and the past and the future and she felt as if she'd done this before and already longed to do it again.
This moment <3 Blue and Gansey are so cute and sweet and I cannot even, y'all. I can't.
That's our swoon this week! What about you? Leave us a comment & a link.