Who doesn't LOVE a good swoon?! We love them for sure! Check out our swoon below and then add to the fun.
Post anything that made you swoon, past or present read. Include the cover, blurb and links. Please no spoilers.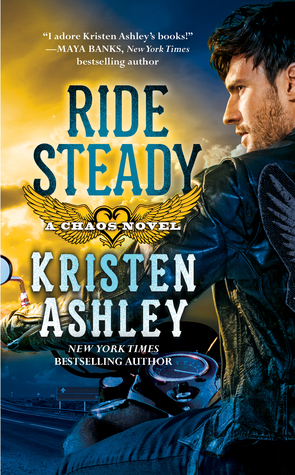 The ride of her life . . .
Once upon a time, Carissa Teodoro believed in happy endings. Money, marriage, motherhood: everything came easy---until she woke up to the ugly truth about her Prince Charming. Now a struggling, single mom and stranded by a flat tire, Carissa's pondering her mistakes when a vaguely familiar knight rides to her rescue on a ton of horsepower.
Climb on and hold tight . . .
In high school, Carson Steele was a bad boy loner who put Carissa on a pedestal where she stayed far beyond his reach. Today, he's the hard-bodied biker known only as Joker, and from the way Carissa's acting, it's clear she's falling fast. While catching her is irresistible, knowing what to do with her is a different story. A good girl like Carissa is the least likely fit with the Chaos Motorcycle Club. Too bad holding back is so damned hard. Now, as Joker's secrets are revealed and an outside threat endangers the club, Joker must decide whether to ride steady with Carissa---or ride away forever . . .
Swoon...
"I think I might be falling in love with you," I blurted and watched his face change to an expression I would have rushed to my phone to capture if I wan't captivated by it, not wanting to miss an instant.
"Then quit thinkin', Carrie, because I know I'm fallin' for you."
I was originally going to do a swoon from BOUNTY by Kristen Ashley, because I was in the mood to give it a re-read and I adore the book---but then my re-read of that somehow led into a re-read of this and I got to this part again and I couldn't help but swoon over this instead. Carrie & Joker are so dang cute and I love them!
That's our swoon this week! What about you? Leave us a comment & a link.