This is a weekly bookish meme hosted by MizB at Should Be Reading.
* BE CAREFUL NOT TO INCLUDE SPOILERS!
(Make sure that what you share doesn't give too much away! You don't want to ruin the book for others!)
* Share the title & author, too, so that other TT participants can add the book to their TBR Lists if they like your teasers!
There are no mistakes in love.
Captain of the soccer team, president of the Debate Club, contender for valedictorian: Taylor's always pushed herself to be perfect. After all, that's what is expected of a senator's daughter. But one impulsive decision-one lie to cover for her boyfriend-and Taylor's kicked out of private school. Everything she's worked so hard for is gone, and now she's starting over at Hundred Oaks High.
Soccer has always been Taylor's escape from the pressures of school and family, but it's hard to fit in and play on a team that used to be her rival. The only person who seems to understand all that she's going through is her older brother's best friend, Ezra. Taylor's had a crush on him for as long as she can remember. But it's hard to trust after having been betrayed. Will Taylor repeat her past mistakes or can she score a fresh start?
Teaser...
Ezra sets his chin on my shoulder, hugging me from behind. His large masculine hands grip my waist. "I changed my mine," he says in a low rumble. "Let's forget bowling and find a bed."
(Page 179 of ARC)
Ezra is adorably and totally in love with Tee. I adore him. Cute. So cute.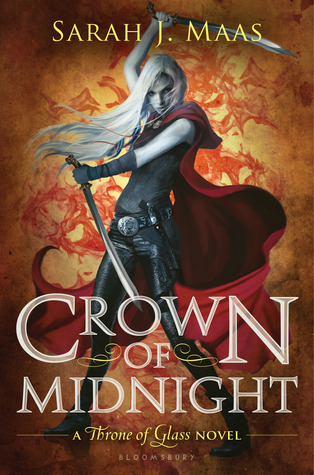 "A line that should never be crossed is about to be breached.

It puts this entire castle in jeopardy—and the life of your friend."
From the throne of glass rules a king with a fist of iron and a soul as black as pitch. Assassin Celaena Sardothien won a brutal contest to become his Champion. Yet Celaena is far from loyal to the crown. She hides her secret vigilantly; she knows that the man she serves is bent on evil.
Keeping up the deadly charade becomes increasingly difficult when Celaena realizes she is not the only one seeking justice. As she tries to untangle the mysteries buried deep within the glass castle, her closest relationships suffer. It seems no one is above questioning her allegiances—not the Crown Prince Dorian; not Chaol, the Captain of the Guard; not even her best friend, Nehemia, a foreign princess with a rebel heart.
Then one terrible night, the secrets they have all been keeping lead to an unspeakable tragedy. As Celaena's world shatters, she will be forced to give up the very thing most precious to her and decide once and for all where her true loyalties lie... and whom she is ultimately willing to fight for.
Teaser...
Celaena didn't know when she began crying. Somehow she skipped a breath, and it set her lips wobbling. She shouldn't cry, not here, not with all these people around her. But then a warm, calloused hand grasped hers beneath the table, and she turned her head to find Chaol looking at her. He smiled slightly--and she knew he understood.
So Celaena looked at her Captain of the Guard and smiled back.
I. Am. LOVING. This. Book. It's been taking me forever to read it, but I'm aiming to finish it this week. It's so freaking good and just... AHH. I love it. Love. It.
Those are our teasers for this week! What do you think? Do you have a teaser to share? Leave us a comment and link us up!