Who doesn't LOVE a good swoon?! We love them for sure! Check out our swoon below and then add to the fun.
Post anything that made you swoon, past or present read. Include the cover, blurb and links. Please no spoilers.
Successful PR executive Chelsea Grant is one assignment away from making partner at her firm and nothing will stand in her way. Her big break? Turn a reclusive computer genius into a media darling in time for his new product launch. He may have been dubbed the "sexiest geek alive" but he has no patience for the press—and it shows. Piece of cake, right? Only problem is… his company doesn't want him to know they hired her.
After a disastrous product launch two years ago, tech CEO Adam Bennett knows the success of his new device depends on the media's support. When a twist of fate brings the beautiful PR specialist to his door, Adam hires Chelsea to help turn his image around. Their attraction is undeniable and the more time they spend together, the harder it becomes to keep things professional.
But when Adam discovers Chelsea's deception, will she risk everything for her career or is love the real thing on her mind?
Available July 12th from Avon Impulse
Swoon...
Walking over, he gripped her hips from behind and kissed the vertex created by the angle of her neck and shoulder. He inhaled deeply and his eyes fluttered, her scent making him dizzy. Her nearness threatened to short-circuit his brain function and accelerate his pulse beyond normal limits. She tilted her head and leaned back into him as he nuzzled her smooth skin. (Kindle location 2454 of ARC)
I so love Adam. LOVE ADAM. OMG, I really do. He's a genius and sometimes doesn't get those social cues right but I adore him so much...ever literal piece of him. Review coming.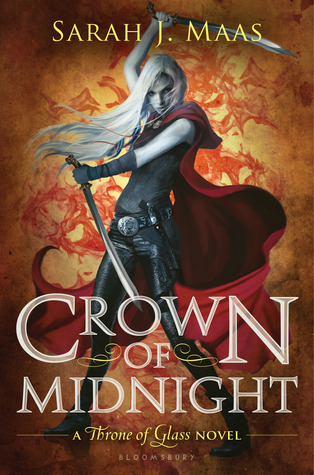 "A line that should never be crossed is about to be breached.

It puts this entire castle in jeopardy—and the life of your friend."
From the throne of glass rules a king with a fist of iron and a soul as black as pitch. Assassin Celaena Sardothien won a brutal contest to become his Champion. Yet Celaena is far from loyal to the crown. She hides her secret vigilantly; she knows that the man she serves is bent on evil.
Keeping up the deadly charade becomes increasingly difficult when Celaena realizes she is not the only one seeking justice. As she tries to untangle the mysteries buried deep within the glass castle, her closest relationships suffer. It seems no one is above questioning her allegiances—not the Crown Prince Dorian; not Chaol, the Captain of the Guard; not even her best friend, Nehemia, a foreign princess with a rebel heart.
Then one terrible night, the secrets they have all been keeping lead to an unspeakable tragedy. As Celaena's world shatters, she will be forced to give up the very thing most precious to her and decide once and for all where her true loyalties lie... and whom she is ultimately willing to fight for.
Swoon...
There had never been any line between them, only his own stupid fear and pride. Because from the moment he'd pulled her out of that mine in Endovier and she had set those eyes upon him, still fierce despite a year in hell, he'd been walking toward this, walking to her.
So Chaol brushed away her tears, lifted her chin, and kissed her.
This book is KILLING me right now. It's so freaking good, and I heart Chaol, but THINGS ARE HAPPENING and dear goodness. Such an amazing sequel, y'all. It's killing me in the best of ways, and I love it so much.
Those are our swoons this week! What about you? Leave us a comment & a link.