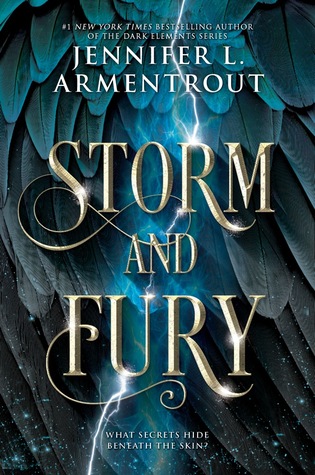 Source: ARC provided by the publisher in exchange for a fair & honest review.
Eighteen-year-old Trinity Marrow may be going blind, but she can see and communicate with ghosts and spirits. Her unique gift is part of a secret so dangerous that she's been in hiding for years in an isolated compound fiercely guarded by Wardens—gargoyle shape-shifters who protect humankind from demons. If the demons discover the truth about Trinity, they'll devour her, flesh and bone, to enhance their own powers.
When Wardens from another clan arrive with disturbing reports that something out there is killing both demons and Wardens, Trinity's safe world implodes. Not the least because one of the outsiders is the most annoying and fascinating person she's ever met. Zayne has secrets of his own that will upend her world yet again—but working together becomes imperative once demons breach the compound and Trinity's secret comes to light. To save her family and maybe the world, she'll have to put her trust in Zayne. But all bets are off as a supernatural war is unleashed…
As someone who both is a huge fan of Jennifer L. Armentrout and really enjoyed the Dark Elements series, I was seriously looking forward to getting my hands on Storm & Fury. And what a lucky duck I was when it landed on my doorstep in February--on my birthday, no less. It was exciting! So I took a peek at the beginning (even though I meant to be reading something else at the time) and BAM. It got me. I was in. I put aside any other reading plans I may have had and gave all my attention to Storm & Fury, which ended up being my newest bookish obsession.
One of the absolute best aspects of Storm & Fury is the characters. Mainly Trinity, who was an MC I instantly clicked with. She's flawed and real but also a total badass. She has a snarky mouth. A great sense of humor. And let me stress this again--she was so real. I loved her. Then there was Zayne who has a leg up because I liked him well enough in the Dark Elements series. But that's just the thing--I liked him in TDE. I *adored* him in S&F! Like Trinity, he was so real. He was always so perfect in TDE series but in this one we got to know him better, saw more of him and I was such a fan. I am so invested in these characters.
Then there was the writing and plot, which were fantastic. As I said in the beginning of the review, I got drawn in straight away and that enthralled feeling did not give in at all throughout the book. Honestly, it didn't even go away after the book was over. I wanted to keep reading it and reading it and I kind of kicked myself for reading it so early because now I have to wait longer for the sequel. This book was all I wanted and more and the series seems to be going in a direction I'm going to freaking LOVE and I am so excited!
For the record, Storm & Fury is a spin-off of The Dark Elements, but it can totally stand alone. And I say this as a person who still hasn't read the third book of TDE. I understood everything just fine. So if you want to just jump into S&F, I say go for it!
Now for the romance. Y'all. My poor heart. Do you even know how many times it got sent aflutter? Zayne and Trinity are working the most beautiful slow burn I'm smiling now just thinking about it. They are without a doubt one of my new favorite JLA couples and may even end up on top of the list by the end of the series (but I'm hesitant to commit because Daemon & Katy!)
Overall, Storm & Fury was everything I could have hoped it would be and more. With banter and swoons and feels and goodness gracious, everything, this book is my newest obsession--and one of my top favorites of the year.
5 stars - Everything I wanted and more, I am head over heels for Storm & Fury!