Hello, friends! I am so excited to be participating in the prompt tour for Victoria Scott's WE TOLD SIX LIES! The last week of January is devoted to Molly--and her's and your untruths.
So we ask:
WHAT IS THE WORST LIE YOU EVER TOLD?
For me, I have to think about this. I don't lie much for a couple of reasons:
1. I am a terrible liar. Like, the literal worst. I stumble over my words and my face gets red and it's more embarrassing than effective.
2. I always feel so bad when I lie. Even when it's about things that don't matter, it sticks in my head and rots.
That said, nobody's perfect. Everyone lies sometimes. When the teacher asks, "Did you read the chapter we're covering today?" The answer is not going to be no.
I'm not sure how to answer about my WORST lie, because all the worst lies I've ever tried to tell have never been believed. But I think my biggest lie is a good review for a book that I did not like but pretended to like because peer pressure. Actually, there are a couple of books I've done that for in the past. I haven't done this in years (I mean, I gave a JLA book 2 stars last year, y'all, you KNOW I'm not lying now) but in my earlier days I was more self conscious, especially when it came to books surrounded by hype.
I won't tell you what those couple of books were, though. I think I'll let you wonder ;)
Now, read on to learn more about the book, author, and GIVEAWAY!
We Told Six Lies by Victoria Scott
**Releases February 5th!**
Remember how many lies we told, Molly? It's enough to make my head spin. You were wild when I met you, and I was mad for you. But then something happened. And now you're gone.
But don't worry. I'll find you. I just need to sift through the story of us to get to where you might be. I've got places to look, and a list of names.
The police have a list of names, too. See now? There's another lie. There is only one person they're really looking at, Molly.
And that's yours truly.
Victoria Scott is the acclaimed author of eight books for young adults. Her novels are sold in fourteen different countries, and she loves receiving fan mail from across the world. Victoria loves high fashion, big cities, and pink cotton candy. You can find her online at VictoriaScott.com.
Now, for the giveaway! All you have to do to enter is answer the prompt question:
What is the worst lie you ever told?
Answer in the comment below and you could win 1 of 2 signed copies of We Told Six Lies!
- US only
- comment below with your lie--it can be white or red hot, up to you!--and you're entered!
- please leave a way to contact you in the comment (email or Twitter)
ALSO!!
While we wait for We Told Six Lies on 2/5, Victoria's Violet Grenade is currently available (and one of my favorite books of all time), so check that out below!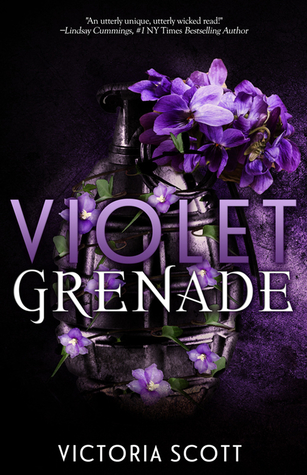 Her name is Domino Ray.
But the voice inside her head has a different name.
When the mysterious Ms. Karina finds Domino in an alleyway, she offers her a position at her girls' home in secluded West Texas. With no alternatives and an agenda of her own, Domino accepts. It isn't long before she is fighting her way up the ranks to gain the woman's approval…and falling for Cain, the mysterious boy living in the basement.
But the home has horrible secrets. So do the girls living there. So does Cain.
Escaping is harder than Domino expects, though, because Ms. Karina doesn't like to lose inventory. But then, she doesn't know about the danger living inside Domino's mind.
She doesn't know about Wilson.