This is a weekly bookish meme hosted by MizB at Should Be Reading.
* BE CAREFUL NOT TO INCLUDE SPOILERS!
(Make sure that what you share doesn't give too much away! You don't want to ruin the book for others!)
* Share the title & author, too, so that other TT participants can add the book to their TBR Lists if they like your teasers!
On the night of the Parkhurst ball, someone had a scandalous tryst in the library.
•Was it Lord Canby, with the maid, on the divan?
•Or Miss Fairchild, with a rake, against the wall?
•Perhaps the butler did it.
All Charlotte Highwood knows is this: it wasn't her. But rumors to the contrary are buzzing. Unless she can discover the lovers' true identity, she'll be forced to marry Piers Brandon, Lord Granville—the coldest, most arrogantly handsome gentleman she's ever had the misfortune to embrace. When it comes to emotion, the man hasn't got a clue.
But as they set about finding the mystery lovers, Piers reveals a few secrets of his own. The oh-so-proper marquess can pick locks, land punches, tease with sly wit … and melt a woman's knees with a single kiss. The only thing he guards more fiercely than Charlotte's safety is the truth about his dark past.
Their passion is intense. The danger is real. Soon Charlotte's feeling torn. Will she risk all to prove her innocence? Or surrender it to a man who's sworn to never love?
This is the dreaded
marital duty discussions
with a very horrified Charlotte. I could hardly breath by the time this conversation was over because there were PROPS! Here's where the fun begins.
Teaser...
"You see, a man's...ahem...is shaped differently from a women's..." Mama fluttered her hand "...whatsit. And in the marital bed, he will wish to place his ..." More hand fluttering. "...inside yours."
"His ahem goes in my whatsit." (page 80)
Hehe...then there is a peach and an aubergine (long eggplant) to help explain. I really couldn't breath for laughing so hard. LOVE this book!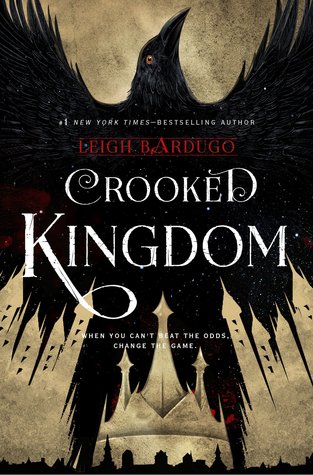 Kaz Brekker and his crew have just pulled off a heist so daring even they didn't think they'd survive. But instead of divvying up a fat reward, they're right back to fighting for their lives. Double-crossed and left crippled by the kidnapping of a valuable team member, the crew is low on resources, allies, and hope. As powerful forces from around the world descend on Ketterdam to root out the secrets of the dangerous drug known as jurda parem, old rivals and new enemies emerge to challenge Kaz's cunning and test the team's fragile loyalties. A war will be waged on the city's dark and twisting streets―a battle for revenge and redemption that will decide the fate of magic in the Grisha world.
Teaser...
Wylan watched as Kaz set the room to rights. He moved an envelope a little more to the left, pulled a drawer on the largest file cabinet out a bit farhter, pushed the chair back just so. When he was done he scanned the room, then plucked the pen from Wylan's hands and set it carefully in its place on the desk.
"A proper thief is like a proper poison, merchling. He leaves no trace." Kaz blew the lamp out.
This is a super basic teaser, but I did this on purpose for two reasons: I'm only on chapter two, so I have less than two chapters of this book to choose a teaser from at the moment, and I know I am avoiding spoilers like the plague so no way in the world would I post anything spoilery-like. SO YEAH. I'm so excited to be reading this book! I adored Six of Crows and I'm all kinds of flail-happy to continue on with this story!
Those are our teasers for this week! What do you think? Do you have a teaser to share? Leave us a comment and link us up!