This is our version of Waiting on Wednesday but with more cuddles, books we can't wait to cuddle for various reasons.
What are we waiting on this week? THIS!
THE LOVE OF THE GAME
Money. Fame. Endorsements. Blake Carpenter had it all—before his professional football career spiraled out of control. Determined to rebuild his life, he takes on coaching the high school team in his Colorado hometown. Despite a few fumbles, Blake knows he can lead these boys to victory. As long as he can keep his eyes on the prize and off the team's distractingly gorgeous physical therapist.
Annabelle Turner knows all about the scandal that cost Blake his NFL career, and she'll be damned if she's going to let

his

mistakes hurt

her

team. What she doesn't count on is the intense attraction that turns every heated run-in they have into a wildly erotic competition. Point by point, play by play, kiss by kiss, they try to keep things professional for the good of the team. But when the score is this close—and the passion this fierce—it's anybody's game...
There's a football on that cover! Nuff said!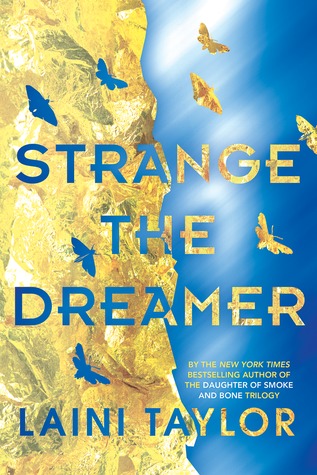 A breathtaking new novel by National Book Award finalist and New York Times bestselling author Laini Taylor
Strange the Dreamer
is the story of:
the aftermath of a war between gods and men.
a mysterious city stripped of its name.
a mythic hero with blood on his hands.
a young librarian with a singular dream.
a girl every bit as dangerous as she is in danger.
alchemy and blood candy, nightmares and godspawn, moths and monsters, friendship and treachery, love and carnage.
Welcome to Weep
.
Why am I waiting? I LOVED Daughter of Smoke & Bone and Days of Blood & Starlight (I haven't read book 3 yet, ahh). Laini Taylor's writing is absolutely lovely, and I am so excited for this new story!!
That's what we're waiting on this week! What do you think? What are you waiting on? Leave us a comment and link us up!