This is a weekly bookish meme hosted by MizB at Should Be Reading.
* Share two (2) "teaser" sentences from somewhere on that page
* BE CAREFUL NOT TO INCLUDE SPOILERS!
(Make sure that what you share doesn't give too much away! You don't want to ruin the book for others!)
* Share the title & author, too, so that other TT participants can add the book to their TBR Lists if they like your teasers!
Angels' Dance (Guild Hunter, 0.4) by Nalini Singh

The gentle teacher of angelic young, and the keeper of her people's histories, Jessamy is respected and admired by everyone who knows her. Yet, born unable to soar into flight, she has spent thousands of years trapped in the mountain stronghold of the Refuge, her heart encased in painful loneliness...until the arrival of Galen, warrior angel from a martial court.
Rough-edged and blunt, Galen is a weapons-master at home with violence, a stranger to the sweet words it takes to woo a woman--but he is also a man determined to claim Jessamy for his own, to dance with her through the skies denied her for so very long...even if their exhilarating passion proves as dangerous as the landscape of war and unrest that lies before them.
This novella is also available in this anthology
Teaser...
Anger was not the dominant emotion she felt toward Galen.
When he returned with her sandals and went down on one knee to slide them onto her feet, his wings a rich, dark gray against the paving stones, she started to argue that she could do it herself. But Galen, as she'd already begun to learn, was an irresistible force when he wanted something, and he had her feet in the sandals moments later, the skin of his hands callused, the touch intimate in a way that made her abdomen clench. (Page 21)
So, my obsession series is by this author and, well, I must check out another of her series'. And this one is very different and yet similar. Same rich writing and strong characters. Totally different world. And I do like it. We'll see if it becomes an obsession.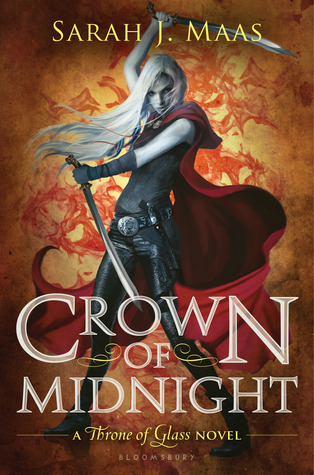 "A line that should never be crossed is about to be breached.

It puts this entire castle in jeopardy—and the life of your friend."
From the throne of glass rules a king with a fist of iron and a soul as black as pitch. Assassin Celaena Sardothien won a brutal contest to become his Champion. Yet Celaena is far from loyal to the crown. She hides her secret vigilantly; she knows that the man she serves is bent on evil.
Keeping up the deadly charade becomes increasingly difficult when Celaena realizes she is not the only one seeking justice. As she tries to untangle the mysteries buried deep within the glass castle, her closest relationships suffer. It seems no one is above questioning her allegiances—not the Crown Prince Dorian; not Chaol, the Captain of the Guard; not even her best friend, Nehemia, a foreign princess with a rebel heart.
Then one terrible night, the secrets they have all been keeping lead to an unspeakable tragedy. As Celaena's world shatters, she will be forced to give up the very thing most precious to her and decide once and for all where her true loyalties lie... and whom she is ultimately willing to fight for.
Teaser...
"I'm just trying to figure out what's so boring that you dozed off ten minutes ago."
She propped herself on her elbows. "I did not!"
His brows rose. "I heard you snoring."
"You're a liar, Chaol Westfall." She threw her paper at him and plopped back on the couch. "I only closed my eyes for a minute."
He shook his head again and went back to work.
Celaena blushed. "I didn't really snore, did I?"
His face was utterly serious as he said, "Like a bear."
About time I picked this book up. I loved Throne of Glass, and I'm excited to read what comes next! I heart Chaol. He and Celaena are so freaking cute!
Those are our teasers for this week! What do you think? Do you have a teaser to share? Leave us a comment and link us up!