Who doesn't LOVE a good swoon?! We love them for sure! Check out our swoon below and then add to the fun.
Post anything that made you swoon, past or present read. Include the cover, blurb and links. Please no spoilers.
Seventeen-year-old Violet has always been expected to sit back and let the boys do all the saving.
It's the code her father, a member of the Reign of Terror motorcycle club, raised her to live by. Yet when her dad is killed carrying out Terror business, Violet knows it's up to her to do the saving. To protect herself, and her vulnerable younger brother, she needs to cut all ties with the club—including Chevy, the boy she's known and loved her whole life.
But when a rival club comes after Violet, exposing old secrets and making new threats, she's forced to question what she thought she knew about her father, the Reign of Terror, and what she thinks she wants. Which means re-evaluating everything: love, family, friends . . . and forgiveness.
Caught in the crosshairs between loyalty and freedom, Violet must decide whether old friends can be trusted—and if she's strong enough to be the one person to save them all.
Chevy kisses me and my entire body hums. Hums. A sweet song, a vibration in melody. His lips are warm and his push and pulls gentle, yet a winding begins in my belly. My hands wander along his back, along his neck, and when I tangle my fingers into his hair -- fireworks. (Kindle location 2326)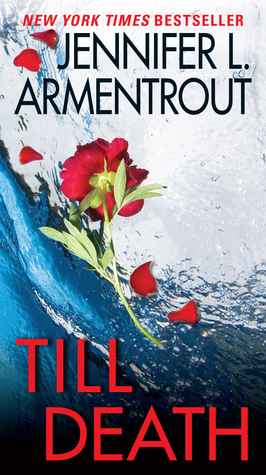 In New York Times bestselling author Jennifer L. Armentrout's gripping new novel, a young woman comes home to reclaim her life—even as a murderer plots to end it. . .
It's been ten years since Sasha Keaton left her West Virginia hometown . . . since she escaped the twisted serial killer known as the Groom. Returning to help run her family inn means being whole again, except for one missing piece. The piece that falls into place when Sasha's threatened—and FBI agent Cole Landis vows to protect her the way he couldn't a decade ago.
First one woman disappears; then another, and all the while, disturbing calling cards are left for the sole survivor of the Groom's reign of terror. Cole's never forgiven himself for not being there when Sasha was taken, but he intends to make up for it now . . . because under the quirky sexiness Cole first fell for is a steely strength that only makes him love Sasha more.
But someone is watching. Waiting. And Sasha's first mistake could be her last.
Swoon...
My spine stiffened. "We don't need to talk about any of that. What you need to do is--"
"Oh, we're going to talk about that, but it's going to wait, and in the meanwhile, you can get angry and you can tell me I'm being unreasonable, and you can come up with any number of crazy reasons why you think I'm doing this, but I'm not leaving. No way in hell," Cole said, eyes flashing, "am I leaving you again."
Hi! So yeah, I finished this book early this week and it was AMAZING. And I freaking love Cole! So very, very much. I'll talk more about the book (and how fantastic the romance is in this book, among other things) in my review later this month. Yay!
Those are our swoons this week! What about you? Leave us a comment & a link.